RULES FOR RIDING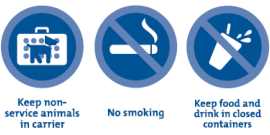 All Paratransit riders are required to follow these rules:  
All Riders MUST SHOW Paratransit ID upon boarding the bus.
Valid and correct fare is required for each trip.
You must yield the seats in the front of the bus for Seniors or Individuals with Disabilities.
Smoking and chewing tobacco is prohibited in all vehicles and facilities.
Keep food and drinks in a sealed, spill proof container.
Respect that service animals are welcomed and may ride for free. All other animals must be kept in their pet carriers and will be allowed on the bus as long as space is available.

If a seat is available for your pet, full adult fare will be charged.

No fighting, shouting or using vulgar or offensive language.
No pushing or participating in rough behavior while onboard.
DO NOT distract the driver. Drivers MUST STAY FOCUSED and watch his driving for your safety.
No Alcohol or illegal drugs allowed on the bus.
No weapons, makeshift weapons or any material/item that may be used as a weapon are allowed on the bus.
Stay seated for the duration of your trip and until the bus comes to a complete stop.
Use of electronics is allowed, however it must be used with headphones or volume must be kept as a minimum and not audible to other riders.
No restricted items are allowed on the bus such as gas tanks, car batteries, spear guns, etc.
No running on the bus.
Car seats or child restraints must be provided by the rider for children under 40 pounds.
Due to the inclement weather that we may face, always carry an umbrella or a raincoat.
Shirt and Shoes must be worn at all times.
Ensure you have all your belongings as you disembark the bus.
Never run or approach an oncoming bus, wait until it has come to a complete stop.
DO NOT throw any object/item at the bus to get the drivers attention.
Services may be suspended for failure to follow GRTA rules.