RULES FOR RIDING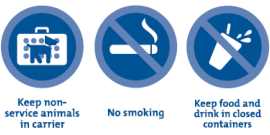 All paratransit riders are required to follow these rules:  
Valid and correct fare is required for each trip.
Smoking is prohibited in all vehicles and facilities.
Keep food and drink in closed containers.
Keep animals in a pet carrier (except service animals).
No disruptive or threatening behavior is allowed.
Don't be so loud that you disturb others or distract the operator from the safe operation of the vehicle.
Use radios and other audio equipment with headphones only.
Follow ALL policies regarding service. Prohibited acts on Guam's Public Transit System bus or vehicle include but are not limited to the following:  
Consuming food or drink, unless approved as eligible for health reasons
Littering
Carrying/possessing any flammable liquid or gas, other than medical oxygen
Urinating, defecating or spitting
Using another rider's pass or card
Solicitation
Failing or refusing to vacate seats when requested by the Operator, any agent of the transit system, or a police officer and
Any activity that may endanger the safety and well-being of passengers and the Operator.
Services may be suspended for failure to follow GRTA rules.